Tony , Adrian and Lazz are passionate about music and sound , always going that extra mile to create something special. Its true to say they really love what they do. Whether casting and recording a Voice Over or creating and writing music they approach everything with passion and professionalism bringing a wide ranging audio skill set to their clients
The boys are a unique composer combination of pop sense and formal training, equally adept at using electronic synthesisers and techniques, as well as acoustic instruments and objects to realise their creative vision.
Sarah Baradhi
Sarah Baradhi is an audio engineer, music composer and sound designer who has worked in the film, television and games industries. A dux graduate from the Australian College of the Arts who is passionate about everything audio and is always looking to challenge herself with the next big project.
Michael Barbagallo
Michael Barbagallo is a qualified audio engineer with over ten years of experience and a pianist of twenty years. Michael has successfully completed a Bachelor Degree of Audio Production at the Australian College of the Arts and has since gone on to work on many projects ranging from short films and commercials to video games and escape rooms.
Michael's sound design work can be heard in such video games as Mattel's "Whack-a-mole" and Games Workshop's "Warhammer" series.
We're happy to welcome both Sarah and Michael as part of our sound design team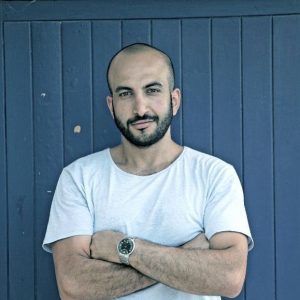 Location Recording by Mike Jaballah of Creative Kicks
A Melbourne based location sound recordist who has the experience and knowledge in how to achieve the best sound possible in all situations, saving you time and money in postproduction and avoiding ADR.
Whether it's recording a film outdoors, live performance in a venue, recording in a studio or overcoming the constant challenges of recording sound on location for TV, a documentary or an interview, he's mastered the art of recording and mixing in the field. Big Ears Audio trusts Mike with all their location sound
Creative Kicks is based in Elwood http://www.creativekicks.com.au
Our Global Partners
Steven Kai van Betten http://www.stevenkaivanbetten.com/
Steven Kai van Betten is a Guitarist/Composer/Improviser,
who is actively involved in the Los Angeles creative music scene.
Yu Miyashita aka Yaporigami https://underarrow.com/
Music & Sound Design Studio Based In Berlin Germany
Benjamin Humphries https://soundcloud.com/bhwh/sets
Located in Gloucestershire, United Kingdom
Taj Easton https://www.tajeaston.com/
Freelance Composer located in Sacramento, California
Kelly Mac http://www.kellymacmusic.com/
Kelly Mac is a highly esteemed music producer and composer who specializes in modern genres as well as scoring to picture. She is based in New York City and is constantly working on creating a uniquely fresh and commercially successful sound.