---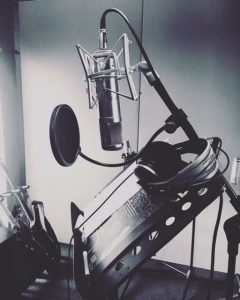 Voice-over is a production technique where a voice—part of the narrative is used in radio, television production, film making, theatre, or other presentations. The voice-over is read from a script and by a specialist voice talent.
Just as important as the skill and experience of our talent is the professionalism of their recording and editing equipment. We exercise strict quality control to ensure the highest broadcast standards.
Whether the project is small or large, we'll cater to your specific needs. Our turnaround time is second to none.
We can supply audio solutions in many common formats including CD-Audio, WAV, MP3, OGG, FLAC and AIFF.
Why Add a Voice?
We all know sounds and words elicit an emotional response in everyone. A voice-over helps your listeners relate to your production in the way you intend. When we hear a person speak, it adds another sense of connection the experience. Achieving that increased depth – the ability to bring your audience closer to your message – is more difficult using images alone.
The right words paired with the right voice create elevated intimacy between you and your audience. The tempo, gender, tone, and intonation of that voice help effectively communicate your message, whether it's personable, serious, emotive, playful, or anything in between.
Need Help Selecting a Voice Over Artist For Your Production?
At Big Ears Audio our casting director works closely with you to cast and choose the right voice for the production. Once cast we take care of all the bookings and payments, making the process easy.
For over 19 years Big Ears Audio has worked with many of Australia's leading advertising and marketing companies, as well as corporations spanning numerous industries. Our work can be heard in many forms of audio production including:
Corporate Films
Radio Advertising
Television Commercials
Character Voices
Podcast Recordings
Messages on Hold
Documentaries
Audio Books
Animation